Trim Piston V-Mec®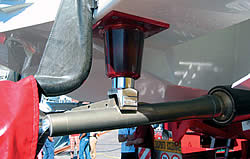 Trim Piston Mec-V® is a patent Flexitab, a cylinder with double acting hydraulic internal particularly suited to support the axles for surface propeller.
Systems can be tailored according to application and created a numerical control in different materials.
Its characteristic is to withstand the lateral loads thanks to this cylinder V-Mec is particularly indicated in the use of propellers semisommerse as it allows the vertical adjustment of the propeller, giving the possibility to adjust the propeller immersion same, containing at least the space by eliminating all mechanical and hydraulic connection in contact with water.
In this way the pilot will always have the boat under control by adjusting the trim when sailing in all conditions of the sea. The advantages translate into a better cruising comfort, lower fuel consumption and improved performance and speed.
The cylinder V-Mec, patent titled "Group of hydraulic piston capable of withstanding lateral loads, especially for naval applications", was born as an application in the field of sailing competition and then used later in the yachting world, is a cylinder hydraulic allowing the rotation of the propeller trimmabili cartons.
The feature to resist radial loads cylinder makes this suitable for use on boats with propellers surface. That kind of forward propeller forces not only along the axis, but also in the direction perpendicular to the same, and these forces are also transmitted and then displayed on to the cylinder V-Mec therefore, resist these forces, enabling the of the trim with these loads.
The cylinder V-Mec is a cylinder with double acting hydraulic internal and allows rotation of an axis of transmission around a joint omeocinetico through the vertical movement of the piston that applied at any point of axis.
The research project Flexidrive® is the result of collaboration with Victory Flexitab of Design, the University of Genoa and Naples.
Spectacular movie that shows Miss Geico Racing with Piston Trim V-Mec® and wheelhouses Flexitab