The steering systemsLe timonerie
The steering systems, modelled by C.N.C. in different materials such as Ergal, titanium and high resistance steel, are made in different geometries and dimensions depending on the applications.
The accurate design and engineering, associated with the use of these materials, enhances the qualities of lightness and reliability of Flexitab® steering system: the choice of many champions.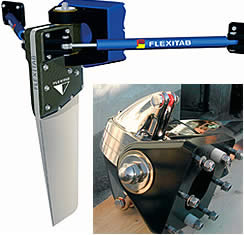 Le timonerie, modellate in C.N.C. in diversi materiali come Ergal, titanio ed acciaio ad alta resistenza, sono realizzate in diverse geometrie e dimensioni a seconda delle applicazioni di destinazione.
L'attenta progettazione ed ingegnerizzazione, associata all'uso di questi materiali, esalta le doti di leggerezza e di affidabilità delle timonerie Flexitab®, rendendole la scelta preferita di tutti i campioni.